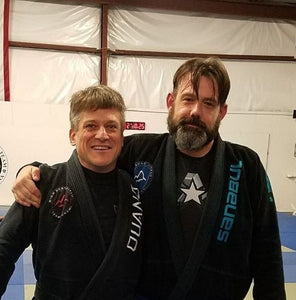 Warrior of the Week- Chris Wenzel
Warrior of the Week- Chris Wenzel
Chris Wenzel served in the United States Army from  2005-2013 as Military Police. He was deployed to Iraq 2007-08 and 2009-10. Now Chris serves as a Virginia State ambassador for We Defy Foundation. 
How Did You Begin Your Jiu Jitsu Journey?  Where are you now on your Journey? Where do you train now? 
"BJJ appealed to me at a young age, starting with UFC 3. Back in the 90's there was not a school in Central PA. Finally, I took the plunge in 2017 where I only trained 6 months due to work. 1. April 2019 I joined High Road BJJ in Fredericksburg Virginia where I have been since. I earned my blue belt Nov 2019."
 What purchase of $100 or less has most positively impacted your life in the last six months (or in recent memory)?
"My airbrush kit and compressor. You will understand why later."
 How has a failure, or apparent failure, set you up for later success? Do you have a "favorite failure" of yours? 
"'Failure' is a lesson, and sets up success if you fix the problem."
What is one of the best or most worthwhile investments you've ever made? (Could be an investment of money, time, energy, etc.)
"Probably has to be the investment I made in my BJJ life. Circumstances lead me to holding a key to the gym. I stay late and lock up, I teach fundamentals at 6am for 3 days of the week, I open up on "off" days for small group open mats. All these things have made me better, both in my bjj skills, but also in leadership skill."
What is an unusual habit or an absurd thing that you love?
"I build intricate models, Bandai to be specific. Star wars, gundam, huge, 100+ piece sets. Remember the airbrushing kit? Makes the option of custom painting them much easier. It's a great de-stress/decompression activity."
 In the last five years, what new belief, behavior, or habit has most improved your life? 
"I quit drinking. I was a statistic as an alcohol abusing veteran, and it was destroying my life. I've been sober 5 years and off tobacco for 2."
 What advice would you give to a smart, driven student new to Jiu Jitsu. What advice should they ignore?"
"Focus on fundamentals, they are your foundation. There is plenty of time to learn flying inverted squirrel locks. Ignore anyone who puts you down or doesn't help to elevate you. Surround yourself with positive people and cut out the toxic ones."
 "What are bad recommendations you hear in your profession or area of expertise?"
"Oh that's probably good enough" No, if it's not right, its not right. Quit half passing things and thinking its acceptable."
 When you feel overwhelmed or unfocused, or have lost your focus temporarily, what do you do? (If helpful: What questions do you ask yourself?)"
"Disconnect, go for a hike, go fishing, get outside and away from the stresses. Come back and pick apart how to overcome it."
---