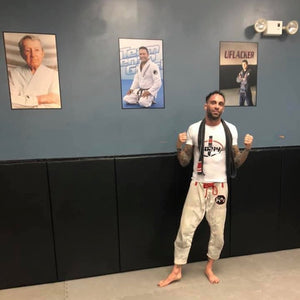 Warrior of the Week- Anthony Ferro
Warrior of the Week- Anthony Ferro
Professor Anthony has been in mixed martial arts for over 17 years, the last 13 of which were focused on Jiu Jitsu. Before Professor involved himself in MMA and Jiu Jitsu, he served in the US Marine Corps, where he had 2 tours in Iraq. He now owns and operates Ferro Academy in Chicago. He also puts out his YouTube channel Sickness Ferro, which is loaded with instructional videos  and tales of dealing with PTSD. 
How Did You Begin Your Jiu Jitsu Journey?
"I began my Jiu Jitsu journey in October 2006, after my second deployment. Jiu Jitsu saved my life."
What purchase of $100 or less has most positively impacted your life in the last six months (or in recent memory)?
"I spent $100 bucks on a used gi and it's one of my favorites."
How has a failure, or apparent failure, set you up for later success? Do you have a "favorite failure" of yours? 
"I have failed a lot after the marine corps. After I lost my job of 8 years because my PTSD got too bad, I was headed in a bad direction. I landed a job teaching kickboxing and Jiu Jiu Jitsu, I built clients, and 3 years later I own my own academy and doing good."
What is one of the best or most worthwhile investments you've ever made? (Could be an investment of money, time, energy, etc.)
"Investing all my money into my gym was very stressful, but now I'm on my second gym already because we had to expand. Best thing I could of done."
 In the last five years, what new belief, behavior, or habit has most improved your life? 
"I love staying awake till 2 to 4 am and watching funny shows as it's my only time my mind calms down. I work all day and night."
 What advice would you give to a smart, driven student new to Jiu Jitsu. What advice should they ignore?
"I have tried to be a good person, I've had it blow up in my face over the past 5 years but my true/loyal people have stayed by me. I believe in karma and it's been rewarding me even if I have been taken advantage of."
 What are bad recommendations you hear in your profession or area of expertise?
"A lot of people have a different way of teaching or how their school is ran. A lot of people say to be very strict, don't be too talkative with students, have a cultish mentality. I believe in loyalty and having one Jiu jitsu coach but I also like to be friendly, bust some balls with my students, and push them very hard while creating a good environment."
 When you feel overwhelmed or unfocused, or have lost your focus temporarily, what do you do? (If helpful: What questions do you ask yourself?)"
"I try to breathe, look how my life has changed and where I came from. I shouldn't be alive today so I remember that it could be much worse."
---