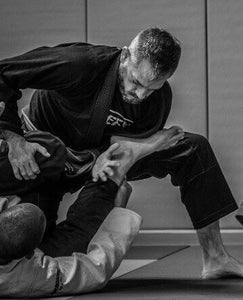 TJ Kreutzer of We Defy Foundation
We have been fortunate enough to meet folks like TJ Kreutzer,

We Defy Foundation

's VP/Director of Operations. In case you are not familiar with We Defy Foundation, they

 provide combat veterans coping with military connected disabilities a long term means to overcome their challenges through Brazilian Jiu Jitsu and fitness training. TJ

 has been an awesome resource in areas like fundraising (and the red tape that might come with it). Thank you sir for letting us pick your brain and get your perspective on a few things!

Do you Serve or have you Served in the Military Law enforcement or as a First Responder? If so when and where?

I attended the US Air Force Academy and went to pilot training after graduation. After training I served as a combat flight lead in the F-16 and an instructor pilot in the T-38. During active duty I was based at Langley AFB, Sheppard AFB, Hill AFB, and Kunsan AB in South Korea, with one combat deployment. I finished my career as a reservist, acting as an Air Force Academy Liaison Officer and retired as a Lt Col.

How Did You Begin Your Jiu Jitsu Journey? Where are you now on your Journey? Where do you train now?

I moved to Minnesota when I left active duty and joined the Reserves. There I joined a gym that had an MMA conditioning program. Eventually I became interested in competition, and my coaches recommended I try Jiu Jitsu. I was hesitant at first because it looked uncomfortable and exhausting, and I really thought I just wanted to hit stuff.  I did try, however, and quickly became addicted.  Soon after starting I decided to focus solely on grappling with the ultimate goal of earning a black belt. I received my purple belt over the summer, and I train at Minnesota Top Team in Eagan Minnesota, an M-Theory affiliate under the Pedro Sauer Association.
A few years after starting Jiu Jitsu I attended a seminar with Professors Tom DeBlass and Chris Haueter, followed by a super fight show called Twin Cities Invitational. The event also served as a fundraiser for We Defy Foundation (wedefyfoundation.org). WDF sponsors disabled combat veterans to train jiu jitsu as a therapy for their service connected disabilities. This was the first time I'd ever heard of We Defy, and I immediately inquired about volunteer opportunities.  I was brought on as one of the first WDF ambassadors and over time began taking on more and more responsibility.  I currently serve as the Vice President / Director of Operations for the Foundation. I am a volunteer, but the hours I spend helping to run the day to day operations of this non-profit organization are roughly equivalent to that of an additional part time job.
The best part about my role in WDF is that I get to see first hand how Jiu Jitsu has impacted the veterans we serve. Every few weeks I hear from someone in our organization… our scholarship recipients as well as our ambassadors… how being involved in this practice and in WDF has enhanced, or even saved, their lives. About 7% of Americans are veterans, but veterans account for about 20% of suicides. This organization literally exists to suppress that number. 
Jiu Jitsu itself has unique attributes that make it an ideal complement for more traditional therapies. It helps isolated individuals connect to others through the warrior ethos, human touch, and community.  I've been told by our recipients that Jiu Jitsu has helped them get off prescription anxiety medications. Some have told me it's helped them kick substance abuse issues. BJJ may even create physiological responses that can reduce PTSD, depression, and anxiety symptoms through utilization of the fight or flight system, and by breaking up the rumination loops and maladaptive thought processes that characterize these conditions.  Studies are just now beginning to explore BJJ as a viable therapy modality. Several of them can be accessed via this link: https://www.wedefyfoundation.org/media-links
Eligibility for WDF scholarships includes having served in a combat zone (with some exceptions allowed), an honorable discharge on a DD-214, and an 80% VA Disability rating. WDF has sponsored over 200 veterans since its inception in late 2015.  Volunteer ambassadors come from all walks of life, and gyms from all over CONUS serve as our Training Facilities. All these components work together to connect disabled combat veterans with Jiu Jitsu. I'm always happy to answer questions about how to become involved in any aspect of our program.

What purchase of $100 or less has most positively impacted your life in the last six months (or in recent memory)?


Grappler's Guide. It's become my favorite online BJJ resource and I found it during the pandemic.  Its a great resource for looking up exactly what you want to learn about, and organizing your study.  I spent most of 2020 firming up a few specific parts of my game and Grappler's Guide really helped me since I didn't have the same access to my instructors like in a "normal" year. I bought lifetime access when it was on sale for something like $70 I think.
How has a failure, or apparent failure, set you up for later success? Do you have a "favorite failure" of yours?


When the Air Force transitioned me from a tactical unit to a training unit I was devastated. I didn't want to leave the F-16, and I wanted to keep flying it as long as a could. After awhile, though, I saw what a blessing the change in operations tempo was. As I got older, my priorities also changed, and my focus was less on career aspirations and more on family balance.  In retrospect, had I not had to change roles in my career, I would have likely missed out on other possibilities (such as finding Jiu Jitsu and serving other veterans through WDF). It taught me that what you think you want right now might not actually be in your best interest, so be open to adapting and taking advantage of what opportunities exist exactly where you are.

What is one of the best or most worthwhile investments you've ever made? (Could be an investment of money, time, energy, etc.)


Quicken, a financial management program. I've been using it since I was a young Lt. I've taught myself a lot about personal finance over the years and tracking and budgeting takes time. Quicken automates much of it, and reduces the time spent on basic recording and organizing of data. That frees you up to spend more time performing higher level functions of personal financial analysis and management.  It was a huge game changer for me 20 plus years ago and has directly impacted everything from my monthly spending to retirement savings strategies.
What is an unusual habit or an absurd thing that you love?


I don't really like to "relax"… if anything, my brain constantly seeks out information to process and organize. I find switching gears more recharging than taking a break. I am still a pretty big gamer, but I will play one game for years before switching to another, and often make huge spreadsheets filled with goal tracking and different specialties or skill trees or weapons load outs for different characters. I do much better actively processing and organizing information than I do sitting around watching TV, which is why I don't have Netflix.
In the last five years, what new belief, behavior, or habit has most improved your life?

Experiencing failure daily in Jiu Jitsu has taught me to use it as a tool, rather than to berate myself when it happens. The military never taught me to deal with failure.  My military identity was built on a need to be perfect in intention, execution, service, and in life. Trying to live up to an unrealistic goal of perfection and perpetual success caused a tremendous amount of stress at times.
In Jiu Jitsu you fail somehow just about every single day. At first that infuriated me, but after coming back to it over and over, I finally began to learn that failure is unavoidable and you have to accept that. Once that is out of the way, and the stress from fear of failure is reduced, you've got more brain power available to execute. Then performance REALLY ratchets up. 
Its one of the reasons I have my son doing Jiu Jitsu. I want him to learn to lose, and stand back up. I want him to get knocked down again and again and have to grind through it to find that other side.  There are a lot of things that build character, and persevering through failure is one of them. That's not something I was taught, especially as someone who experienced a high level of personal success with few disappointments early in life.  Before Jiu Jitsu I didn't handle failure well. Now I know how to use it to make me better.
What advice would you give to a smart, driven student new to Jiu Jitsu. What advice should they ignore?"

Learn how you learn best, then apply that to your Jiu Jitsu study. When I was in pilot training I knew some dudes that could read the book, then go do it in the air. It made me crazy, because I couldn't do that. I had to spend extra time in the simulator and I spent countless hours just visualizing procedures step by step because that's how I learn best. I drill constantly on the mats because that's what my brain needs in order to really execute. Some dudes read books about Jiu Jitsu. Some watch videos. There's probably a place for each of those for your own study, but know what you get the most from and spend your time doing that, especially if your time is limited. And don't feel bad if you aren't learning the way other people learn... your learning is all about you.
"What are bad recommendations you hear in your profession or area of expertise?"


Most pilots I know are highly independent type-A people. Occasionally someone tells me one of their career goals is to avoid their supervisor's office at all costs. I totally disagree. I think it's really important to build relationships with your superiors, even when you can work highly independently of them. The reason for this is at some point something in your life, professionally or personally, is going to go wrong. When that happens, in whatever way possible, you want people you work with in your corner to help you cope with the fallout. If your boss doesn't know you well, you probably don't want your introduction to them to be when you've made a mistake, or when you have a need outside the norm. Investing in that relationship first, and not avoiding it, might be really important when the unforeseen occurs, and you don't want to wish you'd built that bridge after you find you needed it.
When you feel overwhelmed or unfocused, or have lost your focus temporarily, what do you do? (If helpful: What questions do you ask yourself?)"    
My brain constantly needs to process and assimilate data in an effort to create or predict outcomes. When I'm overwhelmed it's often because a lot of the variables are ill defined. When I recognize this is a factor I prioritize "near rocks, far rocks"... That's a pilot phrase that means asking yourself the question "what is going to kill me first?".  Well, near rocks kill you before far rocks, so I prioritize them.  Then I can move on to the far rocks. I'm also a big believer in 80% solutions, and knowing when enough of something is set up to enable success, and executing when you know you can deal with the unknowns on the fly. That literally comes from practice, and it's an art more than a science.
---