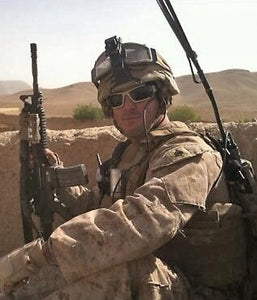 Sgt. Daniel M. Vasselian will be one of the warriors memorialized in DD214 Fightwear's 2023 Soul Armors
Sgt. Daniel M. Vasselian was a United States Marine who was killed in action on December 23, 2013, while serving in Afghanistan. He was 27 years old at the time of his death.
Sgt. Vasselian the 27, of Abington, Mass.; assigned to 1st Battalion, 9th Marine Regiment, 2nd Marine Division, II Marine Expeditionary Force, Camp Lejeune, N.C.; died Dec. 23, while conducting combat operations in Helmand province, Afghanistan.
Sgt. Vasselian was posthumously awarded the Purple Heart , Bronze Star and the Combat Action Ribbon for his service and sacrifice. He is remembered by his fellow Marines and by his family and friends as a brave and dedicated warrior who gave his life in service to his country.
SGT Vasselian's name story was told to us by a buddy who was  in the same company and did the work up together before their deployment.  Daniel's name has been added to the 2023 Soul Armors.
Every year we gather the names of warriors who have passed on and memorialize them in the liner of our Soul Armor Gis. The proceeds go to Gis4Gis Foundation who provide a free Gi to any "Oath Taker" that wants to begin the BJJ journey.
The preorder for these Gis will last until the end of March. The form to add a warrior's name to next year's Gi will be available Memorial Day weekend. Our hope is to inspire more warriors to get on the mats with these Gis!
---