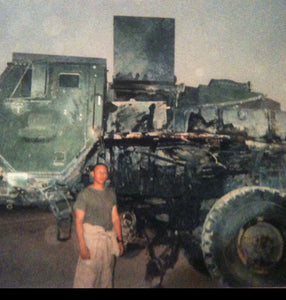 Marine Warrior Spreads the Gospel
Jiu Jitsu saved my life as my two tours in Iraq brought out some demons in me. I'm 100% disabled with PTSD  but I battle it everyday, Jiu Jitsu helps that. I got divorced, lost my home, lives in basements for a years, with that being said I got a bachelors in business management and started my masters in psychology. I had some suicidal thoughts doing some rough times in the past, but I over care it, worked hard, and now I do what I love. It's not easy on a daily basis but I'm happy to be where I'm at because I shouldn't of left Iraq alive. I spread PTSD awareness and hope through my YouTube channel ,Sickness Ferro.  I will continue on fighting.
Anthony Ferro  a two time war veteran, Marine, Brazilian Jiu Jitsu first degree black belt who is 7 and 0 in MMA. He  now own a successful Jiu Jitsu academy in Elmhurst Illinois. His YouTube channel  ,Sickness Ferro, give his perspective on PTSD struggles combined with BJJ.
---