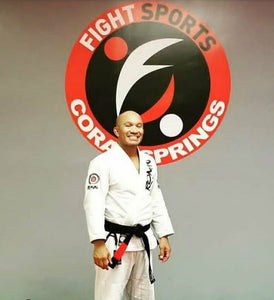 Junior from Jiu Jitsu Dummies Brings the Heat!
Jaime Vega Junior (Junior) has  medical training company by the name ZOTICON that was started in 2016 with the goal of educating civilians and which later opened up to higher tier groups like law enforcement and federal agencies. It is currently based out of Coral Springs, Florida where He has lived for the last 15 years. Additionally, I work in the security and executive protection field, traveling nationally and internationally providing coverage for clients. That work has afforded me the opportunity to use free time to volunteer in a medical capacity with organizations that need help. Junior is also a frequent Co- Host of one of our Favorite podcasts, "Jujitsu Dummies"!  Thank you so much for taking the time to answer some of our questions. And thank you so much for your continued service to the community.
Do you Serve or have you Served in the Military Law enforcement or as a First Responder? If so when and where?
I served as a US Marine on active duty from 1993 - 2003 where I worked as an Artilleryman, A Battery, 1 Bn, 12 Marines, out of Kaneohe Bay, Hawaii. While there, I became a Marine Corps Martial Arts Program Greenbelt Instructor Trainer, and Heavy Weapons Machine gun Instructor. After getting out (and stumbling around for a while) I became a Florida licensed Paramedic where I worked in a Level 1 Trauma Center in Ft Lauderdale in both the ED and Trauma Recess for approx 5 years. 
How
Did You Begin Your Jiu Jitsu Journey? Where are you now on your Journey? Where do you train now?
I was introduced to jiujitsu as a part of the MCMAP program back in 2001 and began to train off base at a Gracie school on Oahu. That was short-lived and upon returning to Florida, I found a school near a job that I had and began training regularly with Pablo Popovitch. With Pablo, I was promoted through brown belt and then began training with my current professors Felipe and Sofia Amarante in Coral Springs. I was promoted to Black Belt under them in Feb of 2018.
What
purchase of $100 or less has most positively impacted your life in the last six months (or in recent memory)?
Significant purchase under a $100 I would have to say would be my collection of books on Stoicism and mindset. Currently reading "The Obstacle is the Way", "Stillness is the Key",  and "Ego is the Enemy" by Ryan Holiday.  
How
has a failure, or apparent failure, set you up for later success? Do you have a "favorite failure" of yours? 
When it comes to failures, I've come to learn that they are the hidden gems of a great life. If your failing your at least trying and its an opportunity to continue working on yourself. Favorite failure would have to be not passing the PAT to apply for a position as a firefighter. I took it for granted that I would be easy and came up short on time. 3 seconds to be exact. I learned to never underestimate my opponent, whether and obstacle or person, and attack it with the full commitment of winning at all cost. With that, preparation is everything.
What is one of the best or most worthwhile investments you've ever made? (Could be an investment of money, time, energy, etc.) 
Investments - I definitely would have to say the best investment has been in the amount of time doing jiujitsu, It has kept me sane through difficult times, when I left the Marine Corps things didn't exactly go how I had planned and employment skills of an Artilleryman were not in high demand in South Florida. The brotherhood on the mats kept me sane and the dedication to training earned me a brown to purple promotion in a year.  Living the lifestyle has given me an overall sense of confidence that cant be found in most other places, it has helped me stay in shape by applying good eating habits, lowered my alcohol consumption, improved my sleeping habits and outside the gym physical conditioning. Jiujutsu is also key in the security and protection business that I work in.  
What
is an unusual habit or an absurd thing that you love?   
Habits - Wearing an eye mask and using earplugs to sleep. I'm a light sleeper and work nights so the mask keeps the light out completely and the earplugs keep me from killing the crazy landscapers that like to show up right at 8 am.


In the last five years, what new belief, behavior, or habit has most improved your life? 
In the last five years, the practice of learning as much about stoic philosophy has been the biggest game-changer in my life. The ability to have something to fall back on that been used for thousands of years and still applies today is crucial. The ability to approach any situation with a clear mind, not allowing my emotions to control the tempo, has made decision making significantly easier. 


What advice would you give to a smart, driven student new to Jiu Jitsu. What advice should they ignore?"  
My advice for a new jiujitsu practitioner would be to develop a schedule that allows them to train several times a week for at least 6 months to a year. This will help ingrain the basics, repetition builds skill that in turn improves proficiency. Things to ignore at the beginning would be flashy moves. 

"What are bad recommendations you hear in your profession or area of expertise?" 
I work in a safety and protection industry and the only bad advice that I see comes from instructors that don't necessarily have the qualifications to be teaching certain subjects. Especially nowadays, you can tell with all the social media when someone is doing something incorrectly to be flashy that can be dangerous for everyone else. 

When you feel overwhelmed or unfocused, or have lost your focus temporarily, what do you do? (If helpful: What questions do you ask yourself?)" 
 Regaining focus can be very difficult without the right tools. I recently started working with a life coach who has shown me techniques to regain awareness when my mind goes on autopilot thinking and feeling on its own, usually dealing with anger, sadness and frustration. One of the things that I've come to notice is that in our warrior culture, is that men don't necessarily focus on mental well being. I would encourage everyone to find a coach, a mentor, a therapist that they can talk to off the mats.
---