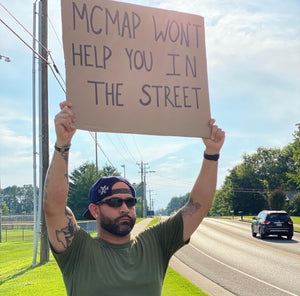 Jay Blancas of Veteran with a Sign Writes it All Out for DD214
Many thanks to Jay Blancas of
Veteran with a Sign
for taking the time to answer a few Questions for DD214 . Veteran with a Sign is the viral duo of Marines who hold up signs filled with military humor and subtle ( or not so subtle sometimes) truths. Their mission is 
 connecting  service members, military veterans, first responders, & their families in order to create a community that extends beyond the front lines. Their motto reinforces our belief that bettering yourself betters the community: "Be the change you want to see." 
Veterans with a Sign  are based out of Tennessee but Jay is  located in the Chicago area. Thank you again Jay, for your continued service to your fellow veterans.
Do you Serve or have you Served in the Military Law enforcement or as a First Responder? If so when and where?
I've been in the military, but have never been law enforcement or a first responder. I did serve 4 years in the Marine Corps infantry as a Rifleman (0311). Alpha Company, 1st Battalion, 6th Marine Regiment was the unit that I was attached to from 2007-11; serving in Afghanistan in 2008 and 2009-10. On my first tour, we saw combat in Garmsir, Helmand. The second time, we pushed the city of Marjah. As a young boot, is when I met my business partner, Warfighter. He's one of my favorite people and directly responsible for me even being on your radar.
How Did You Begin Your Jiu Jitsu Journey? Where are you now on your Journey? Where do you train now?
I was dealing with a TBI, which lead to a low place in life dealing with PTSD, depression, and weight gain. I just felt crappy all the time, so I was looking for something to get back in shape, but also something fun. I wrestled and did karate as a kid, so I wanted to try and get back into that. Had a hard time finding an adult wrestling program in Chicago, so I stumbled into my local MMA gym to learn BJJ. I hated it because I just didn't like the gi. 3 months later, I went to a different MMA gym that had BJJ and loved it because it was nogi. A few years in, they lost their BJJ coaches due to a work visa situation. So, I went looking for "nogi BJJ near me" and, about 4 years ago, I walked into 10th Planet Jiu Jitsu Lombard. I love the nogi sparring, the creativity that my coach Oca has, and the unorthodox nature of the system. I'm currently a blue belt in the 10th Planet system and hold a blue belt under the Brazilian Top Team affiliation. This year is my 7th year in BJJ.
What purchase of $100 or less has most positively impacted your life in the last six months (or in recent memory)?
What purchase? Under $100? Glucosamine! I started taking that for knee pain and it has been so helpful. I feel like a new man. If you've got knee issues, I highly recommend it.
How has a failure, or apparent failure, set you up for later success? Do you have a "favorite failure" of yours?
I'm constantly adjusting, constantly learning, constantly evolving. I "fail" all the time. Then I do an after actions assessment, learn how to correct my deficiencies, and get back after it. The definitions of insanity and perseverance are very similar. I definitely ride that line but the key is knowing when to move on to whatever comes next.
What is one of the best or most worthwhile investments you've ever made? (Could be an investment of money, time, energy, etc.)
My Assault Fitness Airbike Classic. It cost more than $100, so I couldn't mention it earlier but one of my best investments in recent history. It's difficult but also easy on my knees.
What is an unusual habit or an absurd thing that you love?
I will watch documentaries about ANYTHING. I just enjoy learning about things that I know nothing about it.
In the last five years, what new belief, behavior, or habit has most improved your life?
I was recently watching a documentary on the actor Danny Trejo. There is a scene where he is talking to a group of prisoners in an AA/NA setting. He tells them, "Everything good that's ever happened to me came out of helping others." Now Warfighter and I are helping people and good things are happening for us too. So, I don't know if you'll ever see this, but thank you Danny.
What advice would you give to a smart, driven student new to Jiu Jitsu. What advice should they ignore?
Look at the person giving you the advice before you consider taking the advice they give. If you have a person that sucks at chokes, teaching you a choke, maybe find a better source.
"What are bad recommendations you hear in your profession or area of expertise?"
I'm a life-long martial artist and also a boxing/kickboxing coach. So, when BJJ people telling their students that training striking is a waste of time, it seems like horrible advice to me. Nearly all fights will start standing. Learn how to deal with getting hit and how to apply your BJJ in that situation. Nobody says that you have to get in an MMA cage, but you should know how to deal with strikes.
When you feel overwhelmed or unfocused, or have lost your focus temporarily, what do you do? (If helpful: What questions do you ask yourself?)"   
Find the point of friction and fix it. Diagnose what went wrong and search for fixes or information that leads to fixes. Just don't quit. Accept the challenge and keep pushing.
---