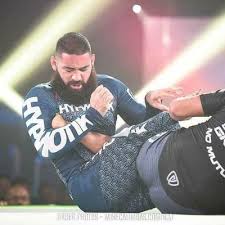 "Fear the Beard" Chris Orozco Answers Our Questions
 We met Chris Orozco while building our network this year . "Fear the Beard" has been a great resource and has provided incredible insights on our Nogi Apparel game.  He has now officially become  the DD214 Fightwear Rash Guard Guinea Pig. We send any new design to TX for his seal of approval.   Chris is a black belt under Travis Moore at Johns Gym Temple TX and is the head Nogi instructor at Johns Gym Georgetown TX. It was great connecting with Chris  while and getting his insight on a number of things. 
Do you Serve or have you Served in the Military Law enforcement or as a First Responder? If so when and where?
    I served in the Marines from 2005-2010. I was originally stationed Okinawa Japan then at MCAS Miramar
How Did You Begin Your Jiu Jitsu Journey? Where are you now on your Journey? Where do you train now?
I began training jiu jitsu when I needed to lose weight. My brother recommended it for me because I enjoyed wrestling as a kid and he said it was similar. Since that first class I haven't stopped training and I am a black belt today.
What purchase of $100 or less has most positively impacted your life in the last six months (or in recent memory)?
I purchased a kettlebell and a pull up bar. When on active duty, I was able to do 26 pull ups. I set a goal to get back to at least 20. The Kettle bell was a new challenge. Both had a positive impact on my overall strength and was a difference maker in my rolling.
How has a failure, or apparent failure, set you up for later success? Do you have a "favorite failure" of yours?
This is work related failure but it taught me that its OK to make mistakes as long as you learn from them. I was upgrading some servers at work. I had multiple servers open. I accidentally made changes to the wrong server. I broke connectivity company wide. I'm nervous and worried that I was  going to be fired. Of course word got around it was my fault. The next day after every thing was recovered, all my coworkers came by and laughed at me then told me about a time they made a similar mistake. Learn how to try to prevent it from happening again and grow from it.
What is one of the best or most worthwhile investments you've ever made? (Could be an investment of money, time, energy, etc.)
My investment in jiu jitsu has been the most impact on my life. I have poured time and money into mats, training material, equipment, travel and competition. I can name many ways it has helped me but if I sum it up. Its was most beneficial for my health both mentally and physically. That's why I havestuck with it since day one.
What is an unusual habit or an absurd thing that you love?
If I have time, I drive or hike until I'm lost then try to find my way back without maps or GPS. Its adventurous and you learn a lot about the area and develop navigation skills.
In the last five years, what new belief, behavior, or habit has most improved your life?
I developed the habit of going to training every day. Even when my mind and body say no, I get off the couch and drive to class. If im at the gym and and still feel like training isn't a good idea, then I can leave. But since im already there. I train and usually feel a lot better that I did.
What advice would you give to a smart, driven student new to Jiu Jitsu. What advice should they ignore?"
Set more frequent and attainable goals. Have a goal to hit a certain sub, sweep.or pass in class that day. Maybe spend the week or month on it. But these frequent goals reward you more often than a stripe or belt. Even today as a black belt I set a challenge and it motivates me to keep training.
Ignore promotions. They will come with time. You're not really much better between your last day as a white belt and your first day as a blue belt. But the competition is harder and expectations are higher. Enjoy the ride at each level.
"What are bad recommendations you hear in your profession or area of expertise?"
Working in the IT field there are a lot. But most commonly I see people never restart their PCs. They don't want to interrupt something. But that is bad for the PC. It should be restarted regularly to avoid erratic behavior.
When you feel overwhelmed or unfocused, or have lost your focus temporarily, what do you do? (If helpful: What questions do you ask yourself?)"

  
I sit back for a moment and think of how could this situation be worse. If frustrated we know how it could be better so i reflect on how can it be worse. I start to appreciate that its not as bad as it could be. 
---