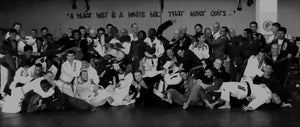 If We Build It Will You Come?
Really excited about the way that several of the DD214 projects are growing.  The WhereVeteransTrain.com page is going, and we have gotten a great response. The page itself is still pretty janky but we are figuring it out little by little. If you have contacted us about your gym, we will get it on there. Please be patient with us.
We've been getting great feedback on the Hoodies, Lids, and Tees. Milt and I are currently brainstorming on a few more designs to open this category up a little.  Hit me with any ideas.  Conversations with Gis 4 Gis have started on ways to get them some Gis. They need A1s and definitely A2s.  Thinking that we might do a Buy One Give One package for Black Friday. The buyer would get a Gi with a Tee and we would send the other Gi to G4G……. open to any other ideas. Rashguards and Gis arrive next week.  I'm still trying to figure out how to get the best pictures of them for the website (any tips would be appreciated). Please send any feedback or tips to josh@DD214BJJ.com.
That's been the theme of this thing from the start! We've literally been freestyling every move!  Since we certainly don't have the talent or time to develop all the skills to pull everything off, we will surely need the help from a community. At the end of the day community is the key ingredient to get our message across. What is that message you ask? The message ……. Jiu Jitsu is SAVING LIVES.
We created WhereVeteransTrain (Clever name, I know), a private Facebook group of folks who are really into building on our community and message. I guess the idea was that we could get better intel from folks who share the same interests and could provide a better product which could lead to growth which could expose more to Jiu Jitsu which could save more lives.   It is also a place to share veteran friendly gym locations, jokes, and ideas on all things you would find where veterans train (see what I did there?). We are lucky enough to already have some members who have been making waves in the Jiu Jitsu community for years.
The group has one rule….no jerks* (edited for Mom). 
Feel Free to join:
Join WhereVeteransTrain Here  or message our FB page and we will add you.
You will be hearing from some of the leaders of our group in the weeks to come.  I'm sure you are sick of my blabbering and they will provide different perspectives on all things Jiu Jitsu, Military, Wellness, or whatever one comes across WhereVeteransTrain.
Semper Fi,
Josh
---