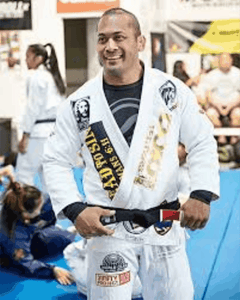 Bryant Pangelinan of Sabre BJJ Drops Some Knowledge for DD214
We are so lucky to have Braynt Pangelinan answer our favorite questions!  Thank you Professor for your commitment to BJJ and to our veteran and LEO communities!

 

Bryant was born in Germany, while his father was in the military. His family originates from the island of Guam. Having lived and traveled all over the world, his family settled in the East Bay of Northern California. 

 

Bryant attended De La Salle high school and wrestled for the Spartans. He later finished college at Saint Mary's in Moraga, and began his JiuJitsu journey in 2003. He pursued a career in Law Enforcement and served as a patrol officer and also a Recruit Training Officer. 

 

Bryant was awarded his Blackbelt in 2012. He followed his dream of opening an academy, and in 2014, Sabre JiuJitsu was established. A year after opening the academy, he was awarded his First Degree by Carlos Sapao in 2015. 

 

Do you Serve or have you Served in the Military Law enforcement or as a First Responder? If so when and where?

I was a uniformed patrol police officer in the city of San Pablo, West Contra Costa County, for 5 years. The city has the most parolees per square mile in the state of California.
How Did You Begin Your Jiu Jitsu Journey? Where are you now on your Journey? Where do you train now?

My first classes were in 1995 while i was still in college in Hawaii. I was wrestling at the time and thought it was just a fad that I'd give a try. Then in 2003 when i stopped competing in wrestling, I was invited to train at the Gracie Academy. I haven't stopped since. I'll be receiving my 3rd Degree on my Blackbelt next year. I own an academy in Concord, CA, called Sabre Jiujitsu

. 

What purchase of $100 or less has most positively impacted your life in the last six months (or in recent memory)?


A tank of gas or my running shoes get me anywhere i need to go. I just need to get myself there mentally.




How has a failure, or apparent failure, set you up for later success? Do you have a "favorite failure" of yours? 

Any failures I have as a father, I constantly use daily to motivate me to be better. It's my biggest drive, I won't be perfect but i can try. It also inspires me to work hard to take care of my family while at the same time work hard for my students

. 



What is one of the best or most worthwhile investments you've ever made? (Could be an investment of money, time, energy, etc.)


I donate my time to Disabled Veterans through the We Defy Foundation & Mission 22 and do Jiujitsu seminars for them across the country.
What is an unusual habit or an absurd thing that you love?


I collect travel soaps from hotels from all over the world lol !




In the last five years, what new belief, behavior, or habit has most improved your life?

The making of my bed in the morning will never end. Sets the tone for my day.




What advice would you give to a smart, driven student new to Jiu Jitsu. What advice should they ignore?




Keep showing up and ignore the soreness.
"What are bad recommendations you hear in your profession or area of expertise?"


It drives me crazy when students ignore the basics.

When you feel overwhelmed or unfocused, or have lost your focus temporarily, what do you do? (If helpful: What questions do you ask yourself?)"

 

I pray and think of my Dad, my Son, my family and all my students who depend on me. 
---