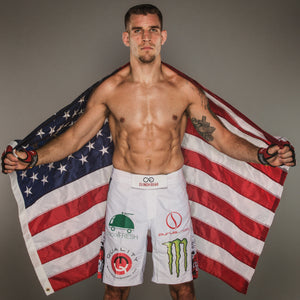 Bellator's Steve "Thunderbeast" Kozola Hits Us with some Knowledge
Steve Kozola started his professional career in July 2013. He went undefeated in his first four bouts, stopping all of his opponents, before signing with Bellator MMA
. He competed for a variety of promotions during this time, including Gladiator Challenge and Xplode Fight Series and World Series of fighting.
He now spends some of his time training combatives to  Marines on Camp Pendleton. That's pretty friggin solid in our book!
Thank you Steve for taking the time to share some of your insights with us and thank you for helping our warriors prepare for battle.
Do you Serve or have you Served in the Military Law enforcement or as a First Responder? If so when and where?
Unfortunately, I have not served but I am enormously proud of all my family and friends that do! After graduating Northern Illinois University in 2012 with a Bachelor's degree in Kinesiology I moved to Southern California and began my career as a professional mixed martial arts fighter as well as a martial arts and fitness instructor. 
 How Did You Begin Your Jiu Jitsu Journey?  Where are you now on your Journey? Where do you train now?
 My Jiu Jitsu journey began in 2009 while I was in college. Most of my Jiu Jitsu training at the beginning was focused on ground fighting, cage tactics and NoGi submissions. The primary focus was getting me ready for my first cage fight as a amateur mma fighter. Currently I am a Gracie Humaitá brown belt and compete in Jiu Jitsu tournaments regularly in Gi and NoGi. I train Jiu Jitsu and instruct striking at Gracie Humaitá Carslbad and Gracie Humaitá San Marcos with a current professional mixed martial arts record of 9-4 (8 knockouts, 1 submission) *Bellator MMA & Professional Fight League (PFL) veteran 
 What purchase of $100 or less has most positively impacted your life in the last six months (or in recent memory)? 
 The book, "About Face" by Colonel David Hackworth. This particular book has the ability to make a lasting impact. The book is very long and was recommended by one of my mentors, Jocko Willink for leadership. It's one of, if no the best, war memoirs I have ever read. Highly recommended for all leaders in all sectors! 
 How has a failure, or apparent failure, set you up for later success? Do you have a "favorite failure" of yours?
 Failure can be the greatest teacher or the worst judge. It can push you through to the next level of success or knock you back down to rock bottom if you let it. It's all about how you respond and adjust to it. Apparent failure tries to trick you...it makes you think that you have done something wrong or terrible but what it actually did was give you the experience and the tools needed to make better choices in the future. 
Don't be paralyzed but fear of failure. Absolutely no one is perfect and all of our best leaders have failed time and time again. The good leaders learned and grew each step of the way. 
 What is one of the best or most worthwhile investments you've ever made? (Could be an investment of money, time, energy, etc.)
 The best and most worthwhile investments will always be in yourself! Invest in your mental, physical and spiritual health. Learn, do, and be apart of whatever is needed for you to be at your best. Invest in whatever will motivate and/or assist you to become the best you you can possibly become. This can be books, seminars, gym memberships, education, etc. Whatever is going to make you better, DO IT! 
 What is an unusual habit or an absurd thing that you love?
 I love extremely passionate people and impactful moments! There's nothing like seeing or experiencing for yourself, the feeling of absolute pride and victory for those that have really earned it! 
 In the last five years, what new belief, behavior, or habit has most improved your life?
 Prioritize, communicate and execute!
In the last five years I have gotten married, had two kids, had multiple jobs all while competing in Professional MMA. The only way you handle those responsibilities with quality and focus is by  communicating openly and honestly, managing your time and controlling your emotions. 
 What advice would you give to a smart, driven student new to Jiu Jitsu. What advice should they ignore?"
 Patience is key! Jiu Jitsu should never end so don't think you have to rush your process or growth. Focus on fundamentals! Find a gym/community that inspires you and fits your mold. 
Ignore those who try to force you to do something you don't want to do or aren't ready for yet. Don't roll, compete, etc until you feel you're ready. 
 "What are bad recommendations you hear in your profession or area of expertise?"
 To give up who you truly are to manifest something else so you can make more money quicker. 
 When you feel overwhelmed or unfocused, or have lost your focus temporarily, what do you do? (If helpful: What questions do you ask yourself?)"   
 I love training or going shooting! I have a compound bow so my go to is going to the backyard and loosing a couple arrows to calm the mind. Also, talking. You should have or find someone you can be fully open and honest with. Don't hold anything in. It will undoubtedly fester and build into something worse. When you talk about it and break it down step by step, piece by piece, then it gets handled correctly. 
---