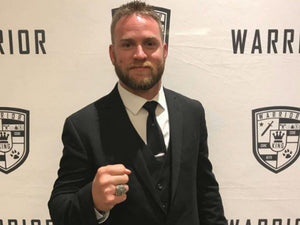 20 years ago, I had it all figured out, sure was a surprise to find myself in 2016 contemplating suicide.- Deric Keller's Rise from Darkness
    I knew that I would become a Marine, I would go to war, become a hero and retire…. Clearly all that didn't happen. After returning from Iraq mid-2003, I found myself lost, confused and sleeping 3 hours a night. I felt as if I had lost everything including my purpose to serve. I decided that I should get out and try to find my way outside of the Marine Corps. 
 Leaving everything I wanted, I thought I would be able to do anything that I wanted.
     I first moved to Mesquite NV, where I did security while attempting to get on with the Police Department in Las Vegas. When my psychology evals came back from my separation, LVPD had labeled me with PTSD. I was unable to continue, since I was a liability in their opinion. I then decided that I would move back to Wyoming and go into the mines with my father and brother. As I was applying to the mines, I started a job doing construction, walked off the job in two weeks. That day I ran into a friend of mine who asked me to come try car sales. "Sure, this would be a great reset for me while I wait". I hated it although I was making great money. I decided that I would stay and quickly transitioned into management, where I found myself the VP of sales running multiple locations. To everyone else I was killing it and there was nothing that could stop me.
    It's 2016, I am sitting at work late one-night planning to commit suicide after the new year because i didn't want my kids to associate my death with Christmas. I was so lost and had no idea how I had arrived in this spot. I thought more money would make everything better and continued to hide inside of work, ultimately avoiding everything that would truly help me find my purpose and reason to live. I was sure that I was completely broken and there was nothing that could fix me. 
     Here I stand today a completely changed man, I am running my own business Coaching and Consulting on business, leadership, accountability and also helping vets with the transition from combat to home. There is no magic pill, it takes work, a lot of freaking work.  I had to take ownership of everything that I had done and hadn't done. I had to look in the mirror and strip off all the BS and make a choice of who I would be when I walked out. It is not easy, but it can be simple. Small simple steps daily to build new habits, patterns and mindsets. 
    The first step out of this was to get past the label of PTSD, I had to re-frame it to a place of power rather then something that controlled me. I had to own that I was playing a victim and that I was ultimately in control of my reactions to it. 
    The second step is to find purpose in what you're doing. Being an infantry Marine and a Car Salesmen I was pretty sure that I was completely screwed in this area. I found myself in a program called Wake Up Warrior, where they slapped me in the face and made me look at the way I was showing up. They didn't allow me to play a victim, always asked me the hard questions and wouldn't allow me to quit. As I began to gain ground inside of myself, I realized that I could help others in their journey and became a Certified Trainer. I am currently using some of their processes along with things that I have learned along my journey.

Here is a couple simple tools to start with:
The Code/Formula
Real/Facts
Raw/Feelings
Relevant/Focus
Results/Fruit
I had to get extremely clear on the real facts. Establish the boundaries in the stories I let consume me to direct the feelings in the right way. I had to adjust my focus to relevant habits and patterns that served me rather than tore me down. I had to set clear Targets that were trackable and measurable to get the results that I wanted.
The Core 4 (daily habits that build)
Body- Fitness and Fuel
Being - Meditation and Memoirs
Balance- Partner and Posterity
Business - Discover and Declare
Building small habits to start my day off right and put me in the space to perform at a level that didn't allow excuses. I started by working out every morning and drinking my greens. Meditating and finding space in my head to allow expansion and creation. Invest in my family like they deserved to be invested in. Learn something new everyday and teach it to someone, because if I am learning to teach I learn at a different level.
    Ultimately, I became the thermostat in my life instead of the thermometer. I ran my life by design and lifted my default mentality to a completely different level. Using these tools daily I was able to build the man that I wanted to become. I was able to lead my family and business like never before. 
    How does this apply to you? It's easy you just need to Identify what habits you can put in right away. Make sure and track your progress and remember the numbers don't lie. These are daily actions not when you feel like it. The only way to change your current results is to change the patterns and habits that you have.
 Register on my website for more tools and tricks @ derickeller.com, Follow me on Instagram @derickeller and Facebook https://www.facebook.com/deric.l.keller for daily insights.
 Don't hesitate to reach out, I wish you the best in all your endeavors.
Deric R. Keller is a Phoenix-based coach, businessman, and sales specialist whose compassion, integrity, and work ethic have all earned him the reputation as a service-driven leader. He is also a Warrior Certified Trainer and Decorated Combat Veteran on a lifelong mission to create positive change in people's personal and professional lives by helping them shift their perception. Throughout the course of over a decade, he has garnered extensive experience within the sales industry.

Currently, Deric is the Founder and Owner of Battlefield Boardroom, where he imparts people with the true-and-true system they need to step into their best version, as a father/mother, spouse, and businessperson.The marriage of battlefield tactics into modern day business. Breaching boardrooms and working form the objective backwards. Prior to that, he served as a VP of Sales at an automotive company and an Owner/Trainer for The Wolf Project.

Deric has been happily married to his lovely wife for the last 14 years, and together, they are the proud parents of seven children ranging from ages seven to twenty.  
---